On the latest episode of Core Intuition, my co-host Manton Reece described the experience his wife had of leaving her iPhone behind on an airplane, only to have the airline thankfully announce over the airport loudspeakers that the phone had been found.
When they returned to claim it, they asked how they had been able to determine the name of the owner from the locked phone? The answer? They "just asked Siri whose phone it was."
Apparently this is common knowledge to the airline employees, and to no doubt countless iPhone users, but it was news to Manton and me. You can try it yourself: if you have an iPhone, and have set a contact card as "My Info" in Siri's preferences, lock your phone and then ask Siri: "Whose phone is this?"
On the face of it, it seems like a great feature. Who wouldn't want to empower the well-intentioned finder of one's lost phone to make an effort of returning it?
The problem to my mind is not that Siri shares my name and contact information, but that it goes a step further, showing not only my main telephone number, but my physical address, all my telephone numbers, email addresses, as well as my AIM, Twitter, and Facebook accounts. It also happily provides my birthdate, the names of my wife, mom, dad, brother, heck, the names of any person I have assigned a relationship to.
When my friend Dan Moren gave me a ride to Çingleton last year, we killed time in the car playing with Siri's abundant personalization features. Anybody with access to my locked phone will soon learn that Dan is in fact more than just a friend to me: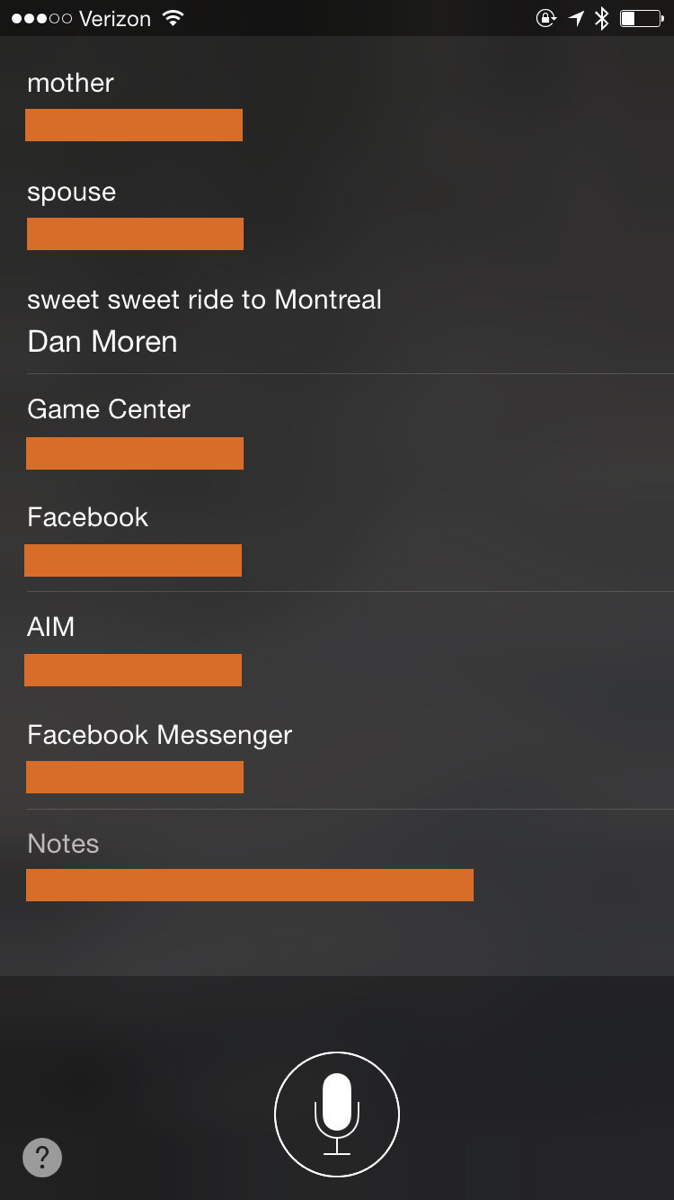 Of course, you don't have to share all this information with whatever stranger manages to pick up your phone. Simply disable Siri access from the lock screen, and nobody will be able to access your private information using it. Of course, this means no airline employee who finds your phone tucked between the seats will be able to easily return your phone to you, either.
Alternatively, you could change the information on your "My Info" contact card. For example I could add an entry "Daniel Minimal" to my Contacts list, and only include a telephone number or email address. The problem here is much of Siri's usefulness (as we discussed on the podcast) is rooted in it knowing specific details about you. Requests such as "give me directions home," "call my mom," or heck, "text my sweet, sweet ride to Montréal," will fall upon deaf ears if you don't include this information in the card that you associate with Siri's "My Info."
Depending on how paranoid you are about what happens when a stranger gets ahold of your phone, you might read this and decide to do nothing, to delete all the personal information from your "Me" contact card, or to forbid Siri from being accessed when the phone is locked. Personally, I don't think any of these solutions is ideal. I'd like to be able to ask Siri to share some of my personal information from the lock screen, to increase the odds of my lost phone being returned. But I'd like to draw the line somewhere reasonable, without having to share every last detail about myself with the stranger who is holding the device.